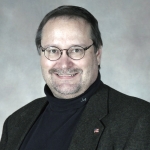 Racine – Jerry Edward Treiber, age 58, passed away at Wheaton Franciscan – All Saints Medical Center early Christmas morning, Wednesday, Dec. 25, 2013.
A lifetime resident, Jerry was born in Racine on January 30, 1955 to the late William Edward and Margaret Caroline (nee: Bogyos) Treiber. A 1973 graduate of Washington Park High School, he went on to earn a Graphic Design degree from Gateway Technical College. Although he never served in the Military, Jerry was extremely patriotic and was a honorary member of the 82nd Airborne Division.
On June 29, 1980 in Kenosha, Jerry was united in marriage with the love of his life, Sherry June (nee: Kieran). As a Graphic Designer, he was employed by Walker Mfg., Quick Cable and Racine Unified School District. He also owned / operated his own businesses of "TNT Advertising", "Laughing Giant Parade Floats", and "Imagioneer."
Jerry was a Star Wars fanatic to say the least. He was a proud member of the Star Wars 501st Wisconsin Garrison Group – who was often seen driving all over Southeastern Wisconsin in his trademark – White Ford Expedition covered with Star Wars logos / symbols. Jerry dressed as a Gamorrean Guard at many occasions and especially looked forward to brightening the faces of ill children at area hospitals through the "Make-A-Wish" foundation. He was passionate about the Fourth of July and was an award winning float designer / builder – having crafted well over 50 floats in his lifetime. Jerry was proud of his Hungarian heritage and was a skilled Bogyos wine maker. For many years, he was an active member of the Friday Morning Optimist Club. With a devout Christian faith, Jerry was a member of the Worldwide Church of God and also attended Covenant Presbyterian Church. Faced with several non-life threatening ailments in recent times, Jerry took control of his health by losing 100 pounds in the past six months by altering his lifestyle. Above all, Jerry was a wonderful husband and father who loved being in the surroundings of his entire family.
Surviving are his loving wife of almost 34 years, Sherry; their children, Jessica Margaret Treiber, Ryan William (Jocelyn Adamczyk) Treiber and Tiffany Rose Treiber; brothers, Jim (Sandy) and Jon (Jill) Treiber; nephews, Derek, Brodie and Max Treiber; mother-in-law, Meredith Nikoloff; father-in-law, John (Leslie) Kieran, Sr.; brothers-in-law, Bill (Nena) Gulbrandsen, John (Anita) Kieran, Jr. and Dan Kieran; sisters-in-law, Pam (Jim) Wilson, the late Rachael Kieran and April (Michael) Hartley; special uncle, Frank (Florence) Bogyos; special cousin, Patsy Moore; other nieces, nephews, relatives, 501st family and friends – too numerous to mention all by name.
Funeral services will be held in the Draeger-Langendorf Funeral Home on Tuesday, December 31, 2013 at 10:00 am. Interment will follow in West Lawn Memorial Park. Visitation will be in the funeral home on Monday from 4-7 pm and on Tuesday from 9-10 am. Memorials may be directed to the Treiber family.
A special note of thanks to Dr. Brady Welsh; Dr. Gedas Grinis and to all the medical providers – especially at Wheaton Franciscan E.R. and ICU for the compassionate care and support given in Jerry's time of need. May God bless all of you!
May the force be with you!